Tuesday, December 05, 2023 • 01:16 pm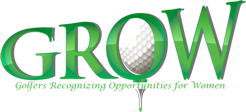 GROW SCHOLARSHIP APPLICATIONS NOW OPEN
Welcome...
GROW was established in April 2007 in Nashville by Tracy Williams Pointer. The mission is to foster personal and professional development opportunities for minority women through a mutual interest in the game of golf. At the first lesson there were six in attendance and a year later the mailing list had grown by 10 times that many. At the two year anniversary mark, the GROW following was at over 100 women and continues to expand. There are plans to start affiliates in other geographical areas. We meet and take lessons together, participate in golf tournaments, and plan casual play dates.
GROW expanded to the Atlanta area and hosted its first golf tournament in October 2019. During the pandemic sunset activities for a few years, then post COVID-19, GROW resumed operations in 2023. The ­enhanced objective for GROW now includes offering virtual webinars.
Lesson updates, news, and the calendar of events is distributed via Women on the GROW, the official eNewsletter publication for GROW. It also features members, their professions, special interest, golf level, and updates about GROW and golf events in the community.

For more information about GROW, lessons, webinars, and to subscribe to Women on the GROW, send an email to info@growtoday.org.
By the way, we don't say see you soon, we say Seed You Soon.™
GROW invites you to...
GROW Your Game
Personal Development
Networking Opportunities
Organized Events
Industry Resources
Members are beginners and seasoned golfers from various industries and professions and include women in business, retirees, college students, etc.
GROW members have various interests and skill sets in the game from beginners to advanced. Some just have an appreciation for the game and volunteer at golf tournaments, while others play every chance they get!
---
-
 
Learn the game
Lessons are available for beginners and clinics allow members to enhance their skill set and enhance their game.
-
 
Play the game
Scheduled play dates are offered in a non-competitive environment and foster networking opportunities.
-
 
Grow the game
Bring a friend who would enjoy learning a new sport that is challenging, fun, recreational and could present a lifestyle change.